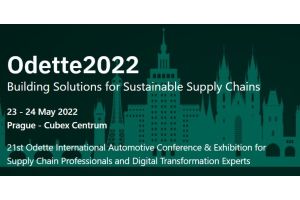 Odette2022 Conference: Mark your calendars!
29 Nov 2021
Under the banner "Building Solutions for Sustainable Supply Chains", preparations for the next Odette Conference are now underway so make sure that you block 23/24 May 2022 in your calendar for this must-attend event in Prague.
We will unveil more details over the coming months but, in the meantime, you can subscribe to our newsletter to get the latest updates.
As you have come to expect, Odette2022 will offer you a programme of unrivalled quality, with speakers who are experts in their field. It will also provide you with excellent opportunities to take advantage of its renowned networking experience.
Whilst virtual meetings have their advantages, they are no substitute for face-to-face interactions and, after several postponements, this long-awaited 21st Odette Conference will be 100% live.
This will surely be a very special event and we look forward to seeing you all in Prague.