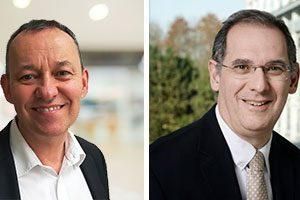 Changes at the top in GALIA
30 Jun 2020
Aime-Frederic Rosenzweig (Renault) takes over from Karim Touhami as Chairman and Gilles Sexton (PSA) replaces Pierre Jamond as Director. 
 Aime-Frederic has built a wide experience in Supply Chain internationally and his extensive network will be invaluable to the Odette community. Gilles has held a number of key positions in Supply Chain and IT within PSA and has most recently been responsible for the integration of the ex GM Europe plants and commercial subsidiaries into PSA IT systems. Together they have a clear strategy based on 4 main pillars: Faster adaptation and accelerated digitalisation through standards Development of efficient and sustainable logistics Building the integrated supply chain of the future Meeting the supply chain challenges of electric and connected vehicles
 Both agree that strengthening collaboration at all levels of the Supply Chain is key to the success of their strategy. Their dynamism and openness to the global industry will certainly be an asset in these challenging times and we look forward to working together with both them and their team.