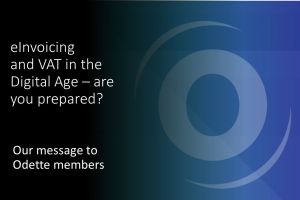 eInvoicing and VAT in the Digital Age – are you prepared?
04 Jul 2023
The invoice document was one of the first to be exchanged by EDI in the automotive industry and its success led to the establishment of Odette in 1984 as major players in Europe quickly realised the benefit of coming together to develop standard EDI messages to exchange other heavily used documents such as delivery schedules and delivery notes.
Up to now, these documents have generally been exchanged directly between customers and suppliers in the automotive industry using messages based on EDIFACT syntax but an increasing number of national tax authorities (and the EU) are now intervening, or planning to intervene, in the invoicing process by insisting that all invoices are exchanged either via a central government platform or via a certified service provider platform.
To be able to exchange invoices via these platforms, rules are also being established about which digital messaging standards can be used and these are usually based on xml standards such as UBL or the CEFACT Cross Industry Invoice rather than EDIFACT. In many cases, if you want to continue to send or receive your existing EDIFACT invoice messages you will be forced to use a service provider who can translate those messages into an approved xml standard and vice versa.
To satisfy the reporting requirements of the various tax authorities it seems certain that additional mandatory data will need to be included in the EDIFACT invoice message whilst on the other hand the structures and data necessary for automotive business processes (such as order reference on line item level and more than one line item per invoice) appear not to be allowed in the approved XML based messages.
Our message to Odette members is that these changes, if not already in place (e.g., Italy), are approaching like an express train and you need to be prepared. If you want to safeguard your decades of investment in your current eInvoicing processes, you should make your voices heard in national and international bodies about the need to be able to continue using your EDIFACT invoice messages.
On our side, we will be working with our National Association members to ensure that all additional mandatory data items are included in our standard messages but if the new reporting requirements and workflows mean that you need other additional data in the messages, please let us know.
The Odette expert data modelling team stands ready to process your EDIFACT messages change requests. Even if you are unsure about the situation, you need to act now. No grace period is ever long enough to allow a business to adopt a relaxed attitude and many businesses seriously underestimate the work that needs to be done to ensure data quality and compliance.
This topic will also be covered in more detail in the forthcoming Odette2023 Conference where you will meet many experts able to provide essential advice.