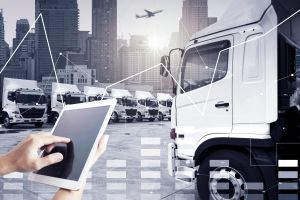 Apps aid collaboration between automotive and logistics
16 Sept 2020
Every day, companies in the automotive industry must deal with trucks which arrive at their factories to deliver parts or collect finished products. Managing the arrival, on-plant movement, loading/unloading anddeparture of these trucks, which can sometimes number several hundred aday, is an extremely complex process.
To assist this process, mobile apps are increasingly being introduced to streamline communication between the plant, the transport service provider and the individual truck drivers. The usefulness of these apps depends, of course, on the quality of information that they can receive from the Yard Management Systems (YMS) of the plants and the Transport Management Systems (TMS) of the transport service providers.
It soon became clear that there was an urgent need for a standardised interface for the data which feed these apps and this prompted VDA members in Germany to develop a recommendation on Operational Transport Control in the Arrival Area (VDA 4996). This recommendation was quickly endorsed by Odette members in other European countries and is now published as an Odette Recommendation - Managing Inbound Transport with Mobile Apps (OT10). The recommendation describes a standard model for the exchange of data between the YMS of the plants and the TMS of the transport service providers.
Based on this recommendation, application developers will be able to develop and programme the various IT systems in such a way that the requirements for the operational control of transport in the arrival area are supported uniformly across all apps. This represents another significant step forward in digital collaboration between automotive industry companies and their logistics service providers.
Access the recommendation free of charge.