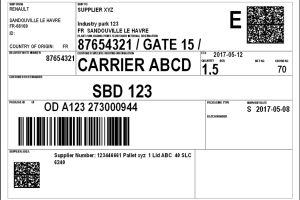 Global Transport Label European Profile
09 Jul 2019
However, the over-riding objective was to reduce the variety in current implementations of the original GTL in the European automotive industry. Implementation of EPv2 is now underway or is planned by several OEMs and Tier1s.

In the meantime, the Odette project to bring more efficiency, automation and transparency to the empty packaging supply chain has identified the need for a specific content of the GTL to support this process.

The project group dealing with empty packaging management has therefore developed an extension to the specification of the GTL EP v2 to include the specification of a Label for Shipment of Empty Packages. In principle, labels for empty packages follow the same rules as described for material deliveries with the following deviations:
The label type is marked with an E (for empty)
The quantity field contains the volume of the TPU in m3
Part number – if used – is the part number of the empty packaging bundle
The data identifier is J
In section E1 the sender of the empty packaging can give additional information for internal process control, such as the bill of material of the packaging bundle
Access the Global Transport Label - European Profile V2.01 free of charge.