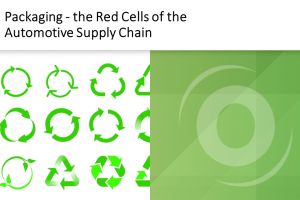 Odette brings industry together to meet packaging challenges
29 Sept 2023
At the request of its members, Odette has called a meeting of automotive companies and packaging manufacturers on 22 November in Berlin to discuss the current challenges facing the suppliers and users of automotive packaging, and the possibility of taking a collaborative approach to meet those challenges.
The meeting will focus on the latest European regulations, covering such topics as elimination of waste, phase-out of single use plastic and reduction of CO2 emissions, plus any other issues that delegates bring to the table, and will explore what we can do together to ease the impact of these changes.
From this meeting, a priority list and action plan for collaboration will be defined.
This meeting follows the Odette2023 Conference taking place in Berlin on 20/21 November where Packaging - the Red Cells of the Automotive Supply Chain, will feature prominently in the Conference programme.
If you are a packaging expert from a vehicle manufacturer, automotive supplier or packaging manufacturer and believe that collaboration is the best way to meet the current challenges, please contact info@odette.org. Note that seats are limited.