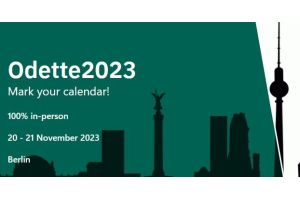 Odette2023 Conference: Mark your calendar
09 Jan 2023
After more than 3 years apart, the success of our Odette2022 conference in Prague proves that the desire to meet face to face is still there and we are pleased to announce that our Odette2023 conference will take place on 20/21 November in Berlin.
Subscribe to our newsletter to be kept informed.
Marie Ammerich, Supply Chain Projects Engineer at L&L Products, says:
The Odette Conference is a place where you will share knowledge and meet major actors of the digital supply chain. Besides following the conference sessions to keep informed of the industry evolutions, my objectives at Odette2022 were to ensure the transmission of knowledge and expertise by introducing my young colleagues to the people I regularly communicate with and to speak with a customer on a specific project. This was done within minutes of our arrival as my Odette contacts immediately put me in touch with THE person I was looking for.
I recommend the Odette conferences to suppliers who want to anticipate changes and stay informed.
Michael Gorny, VP Supply Chain Transformation at Stellantis says:
It was a pleasure to participate and thank you for giving me the opportunity to introduce Stellantis ambitions and the challenges ahead of us. Odette is a strong partner and the standards created are well taken into account in achieving the convergence of our Group companies.