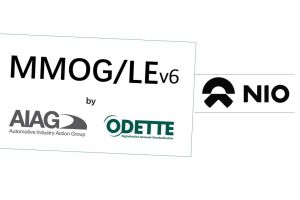 Smart EV company NIO introduces MMOG with suppliers
14 Sept 2023
Available since 2004, MMOG has become the de-facto standard for evaluating supply chain processes in the automotive industry. It is widely used by both partners and users throughout the entire product lifecycle, measuring and promoting continuous improvement in the supply chain.
Marco Wang, Head of Logistics at NIO said: "We've chosen a well proven tool for our supply chain and believe it will bring significant improvements to logistics operations."
Mingguang Cheng, CEO of Cedex, Odette's partner in China said: "Performance of the supply chain is key to remain competitive, and MMOG is the most efficient and comprehensive tool to achieve it. We support hundreds of automotive users here in China to get benefits from this tool."
Available in 10 languages, MMOG is used in 10,000 plants across the globe, producing more than 60,000 assessments annually for their automotive users.
Version 6 published in March 2023 brings many enhancements and gets special attention from the new entrants to the automotive market.