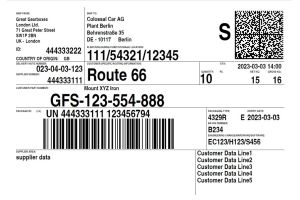 The new Odette GTL Generator. Successful labelling everytime!
12 May 2023
An increasing number of OEMs and Tier1 suppliers are requiring their suppliers to implement the European Profile of the Global Transport Label (GTL) as specified in Odette Recommendation LL08 (VDA 4994). Not all suppliers, however, have the appropriate back-end systems to produce these labels to the correct specification consistently.
Odette has therefore developed a simple tool that can generate compliant GTLs from a simple CSV input. The labels are generated as PDF files which can be printed with a large variety of ordinary laser printers or specialised label printers.

Sizes currently supported:
A5 (210mm x 148mm)
SLC1 (210mm x 74mm)
Contact us if you require any additional sizes that are specified in LL08.
The Odette GTL Generator is available free of charge as a portable app.